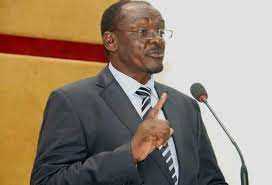 Zim Now Writer
Zimbabwe is exploring new avenues for cooperation with Cuba based on the sound relations which date back to the 1950s.
Vice President, Cde Kembo Mohadi had a busy schedule in Guinea Bissau on the sidelines of the West African country's Independence Celebrations.
Some of the engagements include a meeting with the Vice President of the Council of State of Cuba, Honourable Salvador Valdes Mesa, where several issues concerning the development of the two sister republics were discussed.
Briefing the media after the talks, Honourable Mesa said Cuba and Zimbabwe are enjoying the benefits of their relations, which are set to be enhanced in the field of human capital development, business linkages, trade, and investment, among others.
"Zimbabwe and Cuba have been friends since the 1950s and my meeting with my counterpart Zimbabwe vice president was to deepen these relations and explore other ways in which we can benefit each other and we hope to even have our businesspeople exhibiting in your next trade fair and Agricultural Show so it was fruitful discussions and appreciation of benefits that the two countries have," said Honourable Mesa.
Vice President Mohadi said Zimbabwe is keen on technology transfer in sugar processing, sports science, medical training as well as science and technology.
He said: "Cuba is very good in sugar production and we are looking at technology transfer so that we improve our capacity. We are also looking at cooperation in sports science, they are good at it and we can benefit from that, also science and technology are some of the areas we want to improve on so the friendship of the two nations continues to grow and the Cuban business community may exhibit in our next trade fair and agriculture show."
Earlier, the Prime Minister of Cape Verde, Ulisses Correia e Diver paid a courtesy call on Vice President Mohadi where the issue of cooperation in various fields was high on the agenda.
"We are looking at unlocking opportunities for our businesspeople to take up investment opportunities in the two countries and all we are doing as leadership is to open up the opportunities so that our countries trade and benefit," said the Vice President.
Meanwhile, the Vice President has sent a message of condolences to the families of the 22 people who died in a road traffic accident, which occurred along the Bulawayo-Beitbridge road Tuesday evening.
YOU MIGHT ALSO LIKE